In 1871, Thompson opened the "Bulls Head Saloon" in Abilene, with partner Phillip H. Coe. The saloon prospered due to the cattle drives that gave Abilene a steady stream of cowboys passing through who were anxious to drink and gamble. On October 5, Coe was involved in a shootout with town Marshal "Wild" Bill Hickok, in which Coe was killed.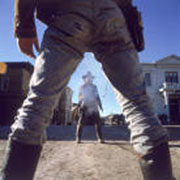 Thompson never confronted Hickok over the shooting of Coe, feeling that Hickok was justified in the killing, and left Abilene shortly thereafter, as did Hickok.

Thompson moved to Ellsworth, Kansas, which also prospered as a cattle-oriented boom town. However, not long after moving there, Thompson's unpredictable and hot-tempered younger brother, Billy, shot and killed Ellsworth's town Sheriff Chauncey Whitney. Billy was not tried in the case, due to the Sheriff having played some part in the gunfight happening, but he and Ben were forced to flee Kansas.


In 1875, Thompson moved to Fort Elliott, in the Texas Panhandle. There he met and befriended gunman Bat Masterson. When Masterson shot and killed a Cavalry sergeant in a dispute over a woman, Thompson stepped in to prevent other soldiers from attacking Masterson.
After that incident, both Thompson and Masterson were hired by the Santa Fe Railroad to intercede in a right-of-way dispute between that railroad and the Rio Grande Railroad.

After the railway war ended, Thompson returned to Austin, Texas, and opened the "Iron Front Saloon". One of Thompson's main competition businesses was the "Capital Theater", owned and operated by Mark Wilson. On Christmas Eve, 1876, Thompson and friends were at the "Capital Theater" drinking, when a fight erupted involving other patrons. When Thompson tried to intervene and stop the fight, Wilson produced a shotgun. A struggle ensued, during which Wilson fired one blast toward Thompson, missing, after which Thompson fired three shots in response, killing Wilson. Thompson also killed bartender Charles Mathews in that same gunfight, when Mathews produced a gun. Thompson was not arrested, and the shooting, which had numerous witnesses, was ruled justified self defense.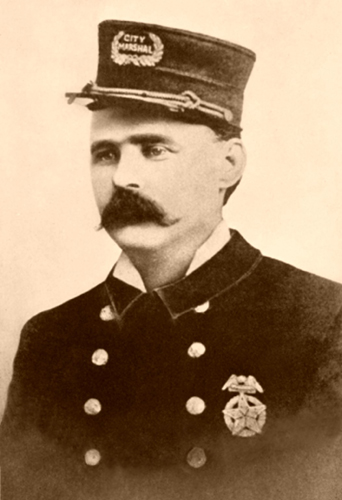 In 1881, Thompson was approached by the city of Austin to serve as City Marshal, a job that he accepted. He reportedly did well in the position, and Austin saw a drastic drop in the rate of crime while he was in office. However, in 1882, Thompson became involved in a dispute with "Vaudeville Variety Theater" owner Jack Harris, in San Antonio, during which Thompson shot and killed Harris, who also was armed. Thompson was indicted for murder, and resigned his position as Marshal. He was tried and acquitted, after which he returned to Austin, where he was welcomed by the citizens, but he did not return to his law enforcement.
On March 11, 1884, Thompson ran into gunfighter and rancher King Fisher in San Antonio. Both men were in town on separate business. The two men, who had known one another for several years, decided to attend a show at the "Vaudeville Theater". Thompson was aware that friends to Harris had threatened to kill him, but he evidently had little concern about the threats.

Fisher and Thompson attended a play on that night at the Turner Hall Opera House, and later, at around 10:30pm, they went to the "Vaudeville Variety Theater". A local lawman named Jacob Coy sat with them. Thompson wanted to see Joe Foster, a theater owner and friend of Harris's, and one of those fueling the ongoing feud. Thompson had already spoken to Billy Simms, another theater owner, and Foster's new partner.

Fisher and Thompson were directed upstairs to meet with Foster. Coy and Simms soon joined them in the theater box. Foster refused to speak with Thompson. Fisher allegedly noticed that something was not right. Simms and Coy stepped aside, and as they did Fisher and Thompson jumped to their feet just as a volley of gunfire erupted from another theater box, with a hail of bullets hitting both Thompson and Fisher. Thompson fell onto his side, and either Coy or Foster ran up to him and shot him in the head with a pistol. Thompson was not able to return fire, dying almost immediately. Fisher was shot thirteen times and died along side Thompson.
Ben stood about five feet nine inches in height and weighed in later years in the neighborhood of 180 pounds. He was always neat in his dress but never loud, and wore little if any jewelry at any time. He was often seen on the streets of Austin, Texas especially on a Sunday, wearing a silk hat and dressed in a Prince Albert suit of the finest material.
As a side note, on January 13, 2007 Ben Thompson's roulette table was just one of 550 western items sold at auction by A&S Antique Auction in Waco, Texas. The table had been on loan to the Ranger museum, on loan from the founding curator Gaines de Graffenried . Tom Burks, the curator of the A&S Antique Auction said that the table was used by Thompson in a gambling house he opened above the Iron Front Saloon on Congress Avenue in Austin.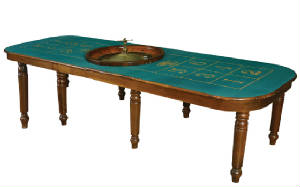 For a more complete picture of Ben Thompson search the used book stores and the Internet for, " The Complete and Authentic Life of Ben Thompson Man With a Gun by Floyd Benjamin Streeter".