Diana Layout
All
gambling
items from the Old West period are highly collectible and becoming very rare. Ivory dice and poker chips are extremely difficult to find and if you are lucky enough to run across them expect to pay a premium. Clay chips are much easier to come by but good quality chips are also getting harder to find. Layouts for games like Chuck-A-Luck,

Faro

and Roulette are next to impossible to buy. The game boards are also showing up less and less on the market.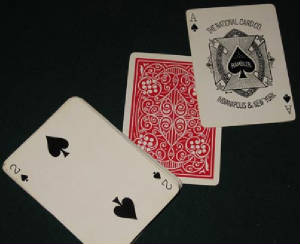 And then there are all the tools of the trade. Items like: Playing Cards, Dice, Poker Chips, Pocket Pistols, Knives, Brass Knuckles, Collapsible Drinking Cup, Pinky Ring, Walking Cane, Pocket Watch, Tie Stud and maybe a bag of chew or a Tin of Tobacco.