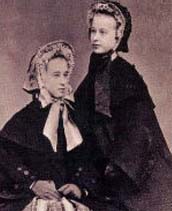 Kate (Seated) and Sister
Mary Katharine Horony born November 7, 1850 in Pest, Hungary is better known as "Big Nose Kate". She was also known by aliases Kate Fisher, Kate Elder, and Mary Katherine Cummings.

Kate was the long-time companion-common law wife of gunfighter Doc Holliday. Although no proof exists, many historians and biographers continually label her as a prostitute.
The eldest daughter of a wealthy physician Dr. Michael Horony, she and her siblings were educated as aristocrat's children. Each of Doctor Horony's children were literate, and Mary Katherine spoke several languages. In 1860, Dr. Horony, his second wife Katharina, and his children left Hungary for the United States, ultimately reaching New York on board the ship Bremen in September 1860.

The family settled in a predominantly Hungarian area of Davenport, Iowa. Horony and his wife both died in 1865 within a month of one another. Mary Katherine and her younger siblings were placed in the home of her brother in law, Gustav Susemihl, and in 1870, they were left in the care of attorney Otto Smith.
Unhappy with her fate, Kate ran away from her foster home and allegedly stowed away on a riverboat bound for St. Louis, Missouri. Repeated stories tell the tale of a young Kate that was discovered by the boat's captain and that he took pity on the stowaway, granting her his protection and passage.

While in St. Louis, Kate claimed to have married a dentist named Silas Melvin and that the two had a son. Subsequently, both husband and son were said to have died of Yellow Fever. No record currently proves the marriage, birth of a child, or the deaths of either Melvin or the child. In fact, recent research using Ancestry.com proves that Silas Melvin is enumerated in a Saint Louis census. Kate's claims of Melvin's being a dentist are unfounded, since this enumeration states that Melvin was an employee of a St. Louis asylum. Since it is during the early 1870s that Kate met Doc Holliday, there is speculation that she may have confused the two and their occupations when recalling the facts later in her life.
By 1874, Kate had made her way to Dodge City, Kansas, where she was known as "Kate Elder." It is alleged that she and another woman were fined and working as "sporting women" in a sporting house run by Bessie Earp, wife of James Earp.


In 1876, Kate had moved to Fort Griffin, Texas. There she met Wyatt Earp and began her long-time involvement with Doc Holliday. Doc had once stated he considered Kate to be his intellectual equal.

Wyatt Earp, in the controversial Stuart Lake biography Wyatt Earp: Frontier Marshal tells a colorful tale of Kate helping Holliday escape lawmen in Fort Griffin, Texas, by setting fire to a shed, but there is no other historical evidence for this tale. Kate acknowledged the story but did not admit its truth.
Kate and Doc went to Trinidad, Colorado, and then to Las Vegas, New Mexico, where Holliday was briefly a keeper of the Center Street "gin mill." Doc and Kate met up again with Wyatt Earp and his brothers on their way to the Arizona Territory. Virgil Earp had already been in Prescott before Wyatt talked the families into moving to Tombstone. The group arrived in December 1879. Holliday and Kate stayed behind in Prescott to advance Doc's gambling winnings at a card game called blackjack . They then arrived in Tombstone in the fall of 1880. Despite reports, there is no conclusive evidence which proves Kate owned and operated a bordello or "sporting house" in Tombstone. Kate was often confused with a bawdy sporting woman called Rowdy Kate.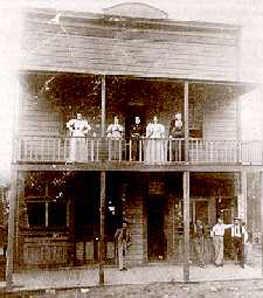 After the falling out between her and Doc, Kate traveled to Globe, Arizona, where she owned a small boarding house. She occasionally traveled to Tombstone to see Holliday until he left for Colorado in April 1882. In 1887, Kate traveled to Redrock,Colorado, which is close to Colorado Springs to visit with family. Although no proof exists, Kate may have ventured over to Glenwood Springs to be with Holliday as he was dying.
After Doc Holliday's death, Kate married Irish blacksmith George Cummings in Aspen, Colorado, on March 2, 1890. They moved to Bisbee, Arizona, where she briefly ran a bakery. After returning to Willcox, Arizona, in Cochise County, Cummings became an abusive alcoholic and they separated. In 1900, Mary Katherine moved to Cochise (which is now a ghost town) and worked for John and Lulu Rath, owners of the Cochise Hotel. Cummings committed suicide in Courtland, Arizona, in 1915.

In 1910, Mary Katherine is enumerated as having moved onto the Dos Cabezas, Arizona, homestead of miner John J. Howard. When Howard died in 1930, Mary Katherine was the executrix of his will and left the homestead with inheritance.
In 1931, now aged 80, Mary Katherine contacted her lifelong acquaintance, Arizona Governor George Hunt, and applied for admittance for the Arizona Pioneer Home in Prescott, Arizona. In the 1920s, the home was established by the state of Arizona for destitute and ailing miners and male pioneers of Arizona. It took Kate 6 months to be admitted, since the Pioneer Home had a requirement that a resident must be a U.S. citizen. According to the 1935 Bork interview, Kate was owed money by the Howard estate. Kate spent time with her family while the home was "adjusting" records (which read that she was born in Davenport, Iowa).

She was granted admittance as one of the first female residents of the home. She lived there and had become a very outspoken resident assisting other residents with living comforts. Kate wrote many letters to the Arizona state legislature, and when she was not satisfied she would contact the governor.

Kate died on November 2, 1940, five days short of her 90th birthday, of coronary artery disease. She is buried under the name of "Mary K. Cummings" on a modest marker in The Arizona Pioneer Home Cemetery, in Prescott, Arizona.

Note; parts of this article comes from wikipedia and in particular author Angel M. Brant. Look for her self-published book, " On the Paper Trail of Big Nose Kate".