I have included George Devol on my list of Frontier Gamblers because he managed to transition from Riverboat Gambler to Frontier Gambler and enjoyed a career in gambling that spanned almost 60 years.
George Devol born August 1, 1829 in Marietta, Ohio. At the age of 10 he ran away from home, serving as a cabin boy on a river boat steamer called the Wacousta.

He moved from boat to boat and on the Cicero, Devol learned to play "Seven-Up" and the art of bluffing. Seeing the high lifestyle of the professional gamblers on the boat, Devol was determined to follow in their footsteps, and by the time he was in his teens, he could deal seconds, palm cards and recover the cut.
Some have written that George was the greatest riverboat gambler in the history of the Mississippi River. They also say he was a con artist and a fighter.

From the book, Forty Years a Gambler on the Mississippi, comes the following quote, " I don't know just how thick my old skull is, but I do know that it is pretty thick, or it would have been cracked many years ago, for I have been struck some terrible blows on my head with iron dray-pins, pokers, clubs, stone-coal, and bowlders, which would have split any man's skull wide open unless it was pretty thick. Doctors have often told me that my skull was nearly an inch in thickness over my forehead."
As the legend goes, George used his forehead as a weapon on numerous occasions, always to the demise of his foe. Fighting would continue to be a natural part of his life, and he soon developed skills with a gun.

When the Mexican War broke out Devol thought it a good idea to join the fight and found a job as a barkeeper on the Corvette, bound for the Rio Grande and Mexico.

While aboard the Corvette he met a man who taught him how to "stack a deck" of cards. Once He reached the Rio Grande and joined-up, he quickly set about utilizing his newly learned skills to swindle all the other soldiers.
George, at 17 years old, eventually bored of the war. His pockets filled with nearly three thousand dollars he headed back home to Ohio where he learned the games of Faro and Rondo.

Continuing to hone his skills, Devol made hundreds of thousand of dollars in the years leading up to the Civil War. Working the riverboats, he soon joined in with other card sharps including Canada Bill Jones, Bill Rollins, Big Alexander, and many others.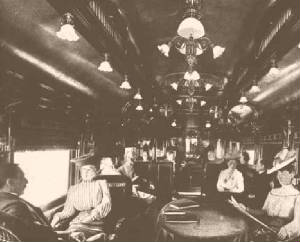 The Civil War years meant change for all the riverboat gamblers. The war chased passengers from the boats thus the gamblers had to find a new place to play. Cities like Chicago, New Orleans and Natchez were hotbeds for gambling so there they went.

Once the war ended people began pushing westward. The railroads followed shortly thereafter. Cattletowns west of the Mississippi sprang up as did Mining Camps throughout the Rockies.

Devol saw the opportunities facing him and he began to follow the railroad expansion between Kansas City and Cheyenne in the early 1870s.
According to Devol, he was working the Gold Room Saloon in Cheyenne when he witnessed Wild Bill Hickok place a $50 bet which he lost. He then placed another $50 bet, winning this time ,however, the dealer handed him back just $25. When Bill questioned this, the dealer stated that the house limit was $25. Hickok declared, "you took 50 when I lost," to which the dealer responded "Fifty goes when you lose." The quick tempered Hickok wasn't about to accept those terms and quickly whacked the dealer on the head with his walking stick, turned over the table, and stuffed his pockets full.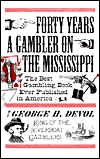 In 1892, Devol published his autobiography, Forty Years a Gambler on the Mississippi, telling of his life. Shortly after he published his book, the great days of railroad and riverboat gambling were over. At the insistence of his new wife, he retired from gambling for good in 1896 and spent the last years of his life selling his book. It is estimated that Devol won over two million dollars in his forty years of gambling. However, when he died in Hot Springs, Arkansas in 1903, he was nearly penniless.